Tuesday, 19 April 2011 20:48

|

Not all equipment is created equal. Human individual preferences and perception differ like ocean life differs in size, shape, eating habits and in thousand other characteristics. But when it comes to sound perception and what matters, I'm on the same page with man I'm about to talk about in this article. When music gives you goose bumps, all your available hair stands up and, after closing eyes, you are lost in space – sound quality is at proper level and your effort paid off. You created something of value to please those picky ears and souls.
February 16th 2011 turned out to be a great day after all. Successful arrangements, schedule shuffling and positive thinking led to one of the best days this year (second best after the day I built my NEW DAC and my mom's visit from Ukraine): I had the guest over. Time was very limited and we had to talk, eat, draw schematics and share ideas all at the same time, but that was just the icing on the cake… How about a joy of music listening on sunny winter afternoon at warm sweet home with bottle of beer? How about listening to the music with one of the most enlightened and dedicated music and technology enthusiasts in the world – Mr. Lukasz Fikus aka Dr. Lampizator from Poland?
There couldn't be better time for this visit as I was building new ES9018 DAC of my own and Lukasz had his baby with him – Lampizator DAC latest revision. This time around he didn't bring it for sale. DAC he brought was destined for review by one of the reputable High End audio reviewers.
DAC was carefully unpacked and plugged to power right away to give it time to warm up after exhausting trip through freezing weather and thousand miles of transportation. Glowing eye of power button looked promising and inviting.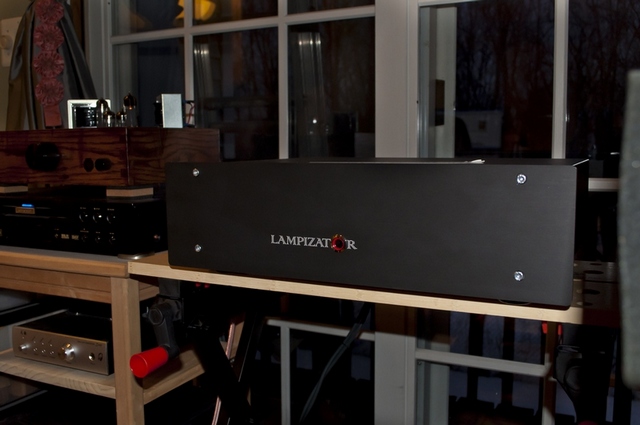 Eva Cassidy was on the menu and we started listening session with my modified ZERO DAC and little tube amplifier with few tricks. Right away I noticed that Lukasz was serious. So far my amplifier received only high marks from grateful listeners and this was new test. I guess DAC was not much behind either, because my guest's head moved in approval and he started to investigate details of amplifier.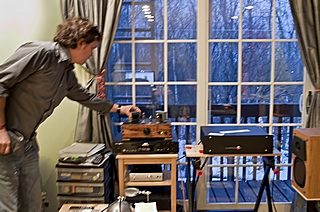 I felt relieved after positive comments, but then came time for Lampizator DAC... Higher standard and truthful sound reproduction were obvious. Incredible details I have not heard before in familiar sound tracks. I noticed some mid-frequency weirdness which is to blame on untrained Blackgate capacitors inside. It will go away with few hours of playing. But "virtual reality" is there, uncompromised and effortless sound was flowing from my speakers to our joy and pleasure. This got me rolling: I have to finish my new DAC soon. There is nothing better than little healthy competition and commitment to highest standards in builds. At the same time I understood that my amplifier passed test, it was not a limiting factor in my equipment setup.
This DAC is good, very good. You can possibly find competitor at a price 5 times of what Lukasz is asking for his work of art. But that competitor will lack certain qualities like flexibility of design, future updates, reliability under different power conditions and different input impedance of load.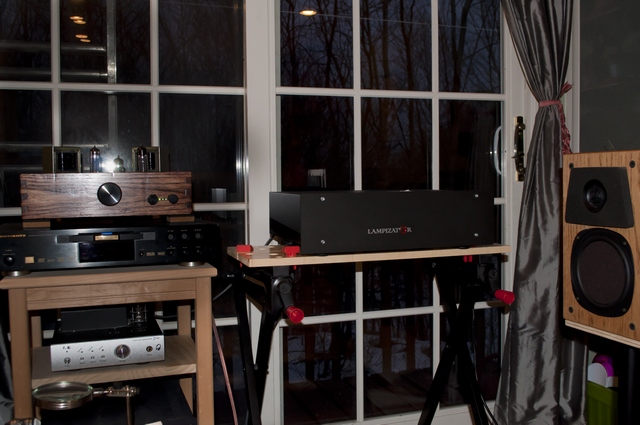 Series of technical solutions play important role in that sound quality. Power filtering and stabilization is crucial for both DAC and tube output stage. Each power pin of DAC chip has to have own power source (regulator). Decoupling capacitors have to be of certain quality and as close as possible to DAC pins. Oversized power supply might not be so important for low signal circuits, but proper filtering with chokes is a must. Conversation about specific DAC chip brand and model did not render any final conclusions. All high end DACs are good, but interface and power supply matter more than brand of the chip. Proper output buffer is another major factor which I will try to demonstrate in the article about new ES9018-based DAC of my own (you will be blown away!). Lukasz received from me samples of AD1853 I-out DAC chip with some documentation. Few weeks after this visit I was getting news that chip produced no sound in test setup. Possible causes unknown, although few ideas came to mind. I have not heard from Lukasz since about DAC performance. Probably it did not pass the test or results are unreliable. Oh well – there are plenty of DAC chips there that produce perfect results. And move on, people. Enough nostalgia about 1bit DACs. Tubes are old and nothing changes there, but semiconductors progress is huge and if you want to improve quality of digital signal processing – move on and get yourself familiar with latest achievements in microelectronics.
What else is here to say? High quality and precision is noticed immediately. In this level of equipment there is nothing to hide. And biggest point to everyone taking on such work – your satisfaction and feeling of completion is enormous. Maybe no gratitude from your wife, but that could change too. Good luck to you, my friends.
Thank you for your attention and time spent reading this article.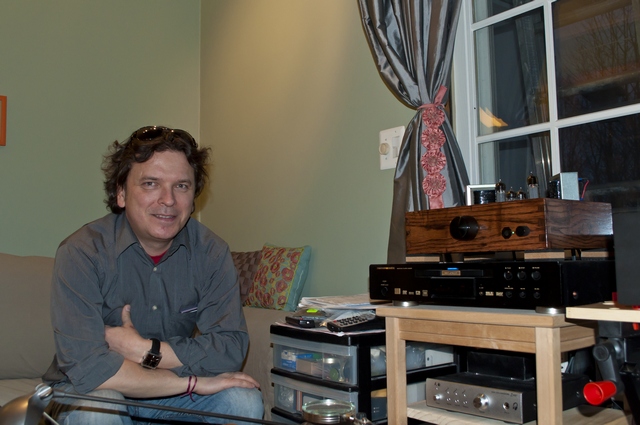 Last Updated on Thursday, 28 April 2011 22:13